Projects
HealthMap
HealthMap brings together disparate data sources to achieve a unified and comprehensive view of the current global state of infectious diseases and their effect on human and animal health. This freely available Web site integrates outbreak data of varying reliability, ranging from news sources (such as Google News) to curated personal accounts (such as ProMED) to validated official alerts (such as World Health Organization). Through an automated text processing system, the data is aggregated by disease and displayed by location for user-friendly access to the original alert. HealthMap provides a jumping-off point for real-time information on emerging infectious diseases and has particular interest for public health officials and international travelers.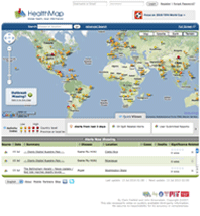 Flu.gov - Where you live
www.flu.gov/whereyoulive/healthmap
In collaboration with the US Department of Health and Human Services, we built an interactive map with comprehensive real-time information (both official and unofficial) on seasonal influenza and H1N1 pandemic. This was the US government's main resource to educate the public about the H1N1 threat.
Outbreaks Near Me
Outbreaks Near Me is the first public health smartphone application. Developed for both the iPhone and Android Google phone, the application allows users to search and browse outbreak reports on the interactive map, and set up the app to alert you with a notice automatically whenever an outbreak is occurring in your area. The application also includes a unique outbreak reporting feature. The application has been downloaded over 120,000 times and has been widely credited as the future of infectious disease surveillance.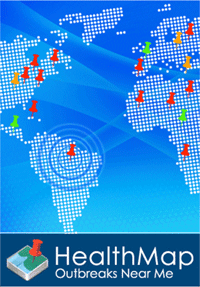 OutbreakMD
In the wake of the recent Haiti catastrophe, this data-collecting system was designed primarily for health professionals located in areas where Internet may be scarce or unavailable. OutbreakMD is used to track and report diseases in a detailed format. Once connected to the web, the device can sync and download all information previously recorded.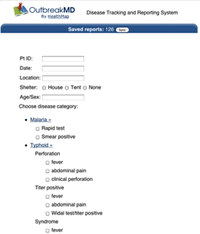 MedWatcher
Designed to engage users in issues of drug safety and real-time pharmacovigilance. The application alerts users of new drug warnings through both official FDA channels, clinicians, news media and patients, and allows users to report information on drug side effects. Serious adverse events from clinicians are automatically submitted to FDA, while public discourse between patients creates a source of information for hypothesis generation for researchers. The application was recently presented to the White House and HHS Secretary Sebelius.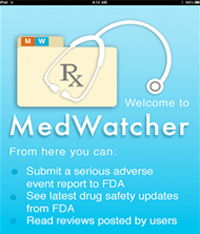 International Society for Disease Surveillance Distribute Project
We worked in partnership with the Centers for Disease Control (CDC) and the Public Health Informatics Institute (PHII) to improve surveillance for influenza-like illness. This initiative leverages the Distribute syndromic surveillance project, developed and piloted by ISDS, to enhance and support Emergency Department (ED) surveillance in order to make aggregate level data available to experts in public health. Distribute complements existing surveillance methods by providing a more comprehensive and detailed situational awareness of geographic and age-specific patterns of influenza-like illness. This system proved to be the main reporting tool for the CDC director during the H1N1 pandemic.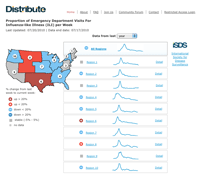 MobileHealthMap
Our group developed a web-based Return on Investment Calculator to help define the value of Mobile Health Care. In collaboration with various partners including HMS, this website is designed to demonstrate the value of early intervention and emphasize the profound health care impact of your work in the populations you serve. Through this website, providers anywhere have access to the value of a single intervention, their entire program, or the whole industry.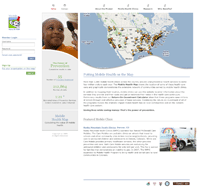 Massachusetts Flu Shot Locator
In collaboration with the Massachusetts Department of Public Health, we built a flu shot locator to identify clinics providing both seasonal and pandemic influenza vaccine. This effort was featured as part of the Google US Flu Shot locator website.
New England Journal of Medicine H1N1 Map
In collaboration with the New England Journal, we developed a real-time risk map of influenza H1N1 cases during the multiple waves of the pandemic in 2009.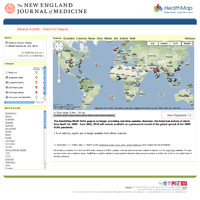 Public Library of Science – PloS Medicine iPhone application
In collaboration with the Center for Biomedical Informatics at HMS and PLoS Medicine, we developed the first mobile phone scientific journal resource that displays the entire collection of journal articles and allows users to share and favorite scientific literature.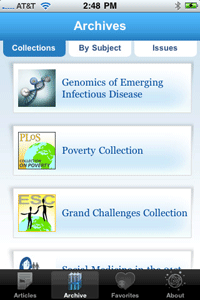 International Society for Infectious Diseases Program for Monitoring Emerging Diseases (ProMED)
In collaboration with the International Society for Infectious Disease, we have helped developed the web technology for the ProMED system. The system is the leading professional effort around emerging infectious diseases and has been widely credited with the discovery of SARS. Our collaborative site receives hundreds of thousands of visits per month.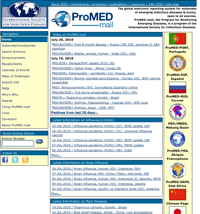 CDC GeoSentinel Project
In collaboration with the Centers for Disease Control and Prevention and the International Society for Tropical Medicine, we have created the GeoSentinel HealthMap. The system provides a visualization tool for clinical data from travel clinics to create a real-time picture of infectious diseases worldwide.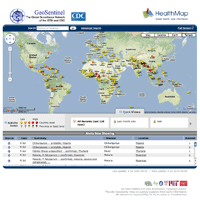 Clinical Trials Wiki
Led by former HMS med student, we have created the Clinical Trials Wiki. The mission of Clinicaltrialswiki.org is to enable the public to understand the world's clinical trial information in a fully unbiased and uncompromised way.